Empowering children to reach their potential
Have you tried private piano lessons with Mrs. Milner from down the street?
We're not your typical music school!
In 2001 we set out on a journey to create an innovative method of teaching music. The old models are tired and have shown to be ineffective by music researchers.
There are large schools that have a 'one size fits all' philosophy, where students are rarely given individual attention. Other times, a child started too early, with the wrong approach and ended up quitting.
At 7 Notes, have always placed emphasis on individual evaluations, making certain each student improves for the long term. The independent teacher, down the street, who gives private lessons, is not given the continual music training our Yamaha teachers at 7 NOTES are, so that we can ensure their pedagogic methods are most impactful for all types of learners. Our teachers are held to a different standard.
Some learners might prefer individual lessons, others our fun and popular Yamaha Group Piano program.
7 Notes is about teaching personal development and self empowerment thorough music. Our students, young and old, develop the unique skill set that playing an instruments gives, but the effect goes way beyond music to all areas of life.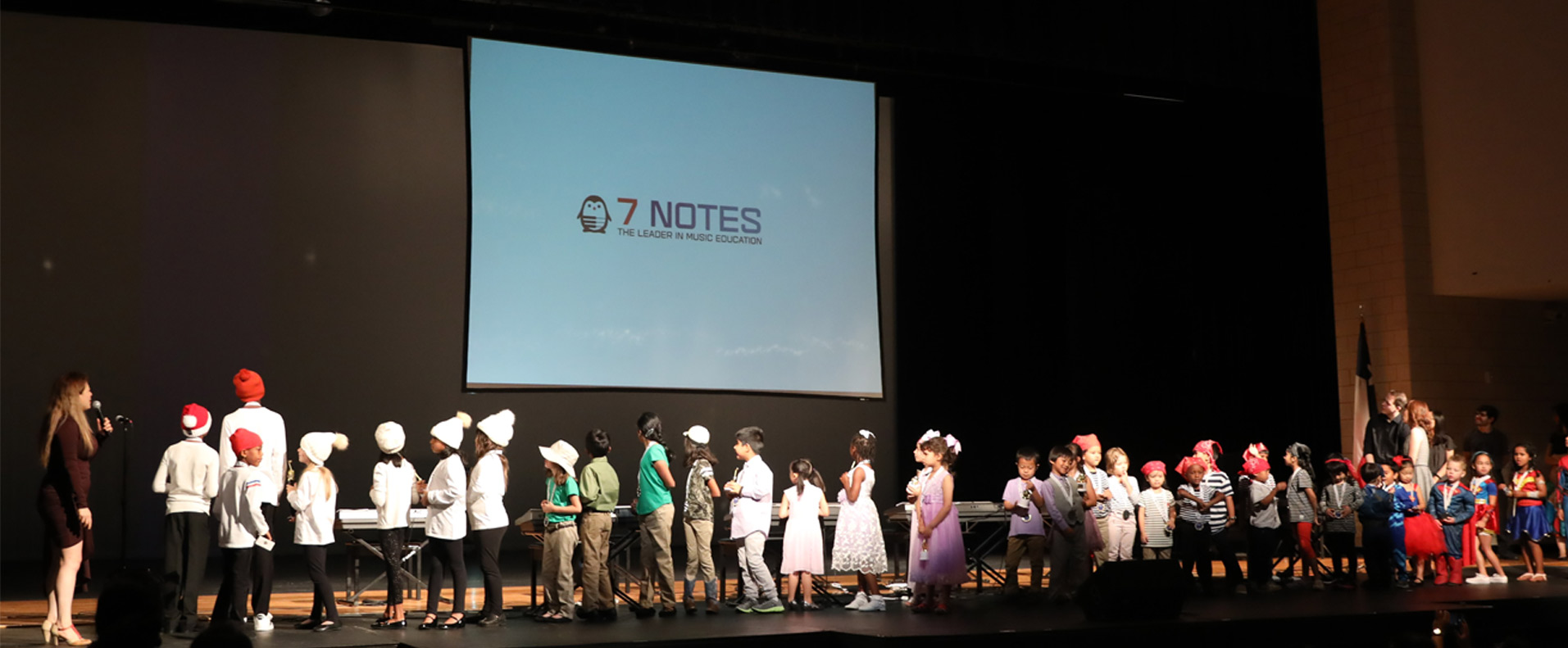 Research Based Curriculum
In the early years, we worked hard to carve a niche in Early Music education. A special place where parents and their children can receive specialized music classes together starting at birth. In the process, we've developed an approach of learning music for their child. This is because we decided early on to only use research based curricula rather than have everything based on the teacher. Curricula ensures consistency in music philosophy, quality of teaching, and progress development amongst  all students at 7 Notes.
While you'll certainly be educated at 7 Notes, first and foremost our programs are about delivering researched based curricula that gets real results. Behind those results is our team of skilled and patient music educators.
Educators at 7 Notes has been chosen not only for their Master of Music degrees, but also for their warmth, enthusiasm and ability to instill a love of teaching music and to inspire music to others.    Each educator is required to complete in-house internship program prior to teaching their own classes. We retain top talent in music education at 7 Notes.
A musician at heart; Eileen has dedicated her adult life to mastering the art of pedagogy and turning her dreams of building a music school into reality. A doting mother, business women, pianist,  and self-professed 'Music Nerd'
Eileen obtained a Masters in Piano Pedagogy from the University of Toronto, an ARCT from the Royal Conservatory of Music, and Early Childhood Certification in Suzuki, Orff, Kodaly and Kindermusik.
She  has been teaching Yamaha Music Education System (YMES) since 2010 and  is one of the few Yamaha Educators in North America that has been trained by the best educators in Canada and USA.   Her knowledge of Early Childhood Music education and emphasis  on children is why parents choose 7 Notes.  Her teaching team  are passionate educators and inspire children to learn.
Eileen oversees operation and guides her teaching team in student development and pedagogy for quality results.
With the dream of opening a music school, she set firmly in her sights, she embarked on a career as a piano teacher.
Always on the lookout for ways to improve her teaching, it wasn't long before Eileen's work confirmed her 3 main suspicions:
Parental involvement is pivotal to a student's success.
Your environment is key
Music is fun and playing with others is a social experience that teaches listening, communication, and teamwork.
So, driven by her love of music and belief that the fundamental skills her teaching imparts transcends musical success, she set upon creating an environment that would foster development in all areas of her young student's lives.
In 2001 she opened her first music school – 88 Keys – where she spent the next 12 years growing the business and further developing her teaching techniques. Then, in 2013, now fed up with Toronto's relentless winters and ready for her next adventure, she took a giant leap of faith – selling the school  and journeying to Texas, where she would set up her second school – 7 Notes (ranked #319 in the Top 360 Small Businesses in America by Entrepreneur Magazine in 2018) which she continues to run (with the Yamaha Music Education System Curriculum license)  to this day.
What's really stands out about the success of Eileen's business' is that pretty much all of her growth has taken place without the utilization of social
media. One might argue that she doesn't need it, but, having joined her contemporaries on the world's largest marketing platforms in only 2016,
she has already built an impressive online presence, with thousands of loyal fans subscribed to her Facebook page, and her self-made,tongue-in-cheek Y
outube videos collectively fetching hundreds of thousands of views. Indeed, Eileen's videos allude to more than just her highly playful nature, they help deliver her message- that learning music should be both fun and motivating.
Eileen is also a published author of the book Practice on the Days you Eat", What Every Parent Should Know Before Starting Music Lessons.  Available in paperback on Amazon and Ingram Spark.
7 Notes  teachers are Full-Time Professionals that have formal university training in music.  Most of our teaching team hold a Master Degree in Music or above in Music and several years of teaching experience.  They are all knowledgeable in their field and in the art of education. We hire our educators not out of the need of filling a position, but because they are  passionate about inspiring students to learn and grow through music. Plus, they must be comfortable with having fun and not taking things too seriously.
For private lessons, we match each student with the teacher that best fits his or her personality and musical goals.
For this reason, we strive to understand each student's unique needs and interests in order to match them with the best possible teacher. The most important skill possessed by our teachers is their ability to work with a child and inspire them to learn.
All of our educators regularly pursue ongoing professional development with the Yamaha Music Education series.
Each one of our teachers has successfully undergone a police background check.
Give us a call and find out if we have a teacher perfectly suited for your child at 972-335-5112
Yamaha Instructors and Training
Yamaha Educators are Highly Trained and Supported Educators
The initial Yamaha Music Education System (YMES) teacher training is administered over a two-year period.
Only teachers sponsored by authorized Yamaha Music Schools may enter the training process to join the international community of Yamaha educators. Upon passing entrance examinations, teachers attend seminars locally and at Yamaha Corporation of America headquarter in California. In addition, teachers receive feedback team of mentor teachers who evaluate videos of their classes. As they continue their career, teachers attend seminars that introduce new and revised courses and participate in workshops on a variety of subjects.
About Yamaha Music Schools
Network extends to more than 40 countries and regions.
Since the first Yamaha Music School outside of Japan opened in Los Angeles in 1964, our network has expanded to include Latin America, Europe, Asia and Oceania. We now have more than 190,000 students learning and experiencing the joy of music in more than 40 countries and regions worldwide. In the course of our growth, we have harmonized our approaches with local cultures and national characters while holding firm to our own educational philosophy.